[ad_1]

Almost £60,000 has been raised for an enormous blimp of Sadiq Khan to fly over London in a bid to oust the mayor from office.
It comes a month after a similarly huge balloon depicting a spray-tanned Donald Trump in a nappy with a smartphone soared above the capital during his first presidential trip to the UK.
Now, protesters on the other side of the ongoing row between the two politicians have plans in place to hit back.
Yanny Bruere – who describes himself as a "free speech advocate" – has spearheaded a successful campaign to raise money for a 29ft blimp of Mr Khan to hover above Westminster on Saturday.
More than 3,400 people have donated to the cause, which its organiser says is aimed at ensuring the mayor loses his job at the next election in 2020.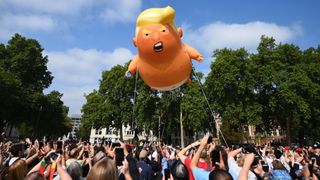 "Under Sadiq Khan, we have seen crime sky rocket to unprecedented levels," the crowd-funding page reads.
"People in London don't feel safe and they aren't safe, 81 murders this year alone! Khan Out."
London has seen a surge in street violence this year, with the number of knife and gun crimes rising.
Sky News has reported on more than 80 suspected murders in the city since the start of 2018, with some critics pointing the finger of blame at Mr Khan.
The design of the inflatable – which shows the mayor dressed in a yellow bikini – pokes fun at an early decision in which he banned adverts on the Tube showing a woman in a similar swimsuit.
It featured the caption "are you beach body ready?" – which was said to promote an unhealthy body image.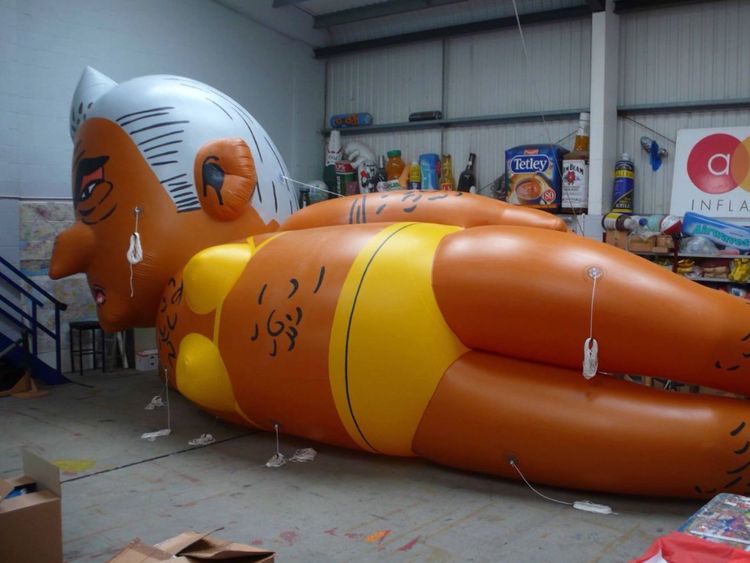 Writing on the crowd-funding page, Mr Bruere said the balloon and accompanying protest would form part of "the biggest takeover in London's history" and pledged "we won't stop until Khan's gone and Londoners feel safe again".
He challenged Mr Khan to allow the blimp to fly to show that "free speech applies to all", after the mayor drew criticism for allowing the "Trump baby" to take to the air in July.
Mr Khan's spokesman said at the time: "The mayor supports the right to peaceful protest and understands that this can take many different forms."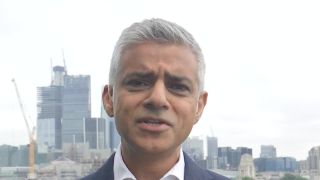 Mr Trump and Mr Khan have clashed repeatedly since the pair were elected in 2016, with their first public sabre rattling coming after the London Bridge terror attack last summer.
In January, supporters of the president interrupted a speech by Mr Khan in London to call for him to be arrested.
It came after a tweet by Mr Khan, in which he said Mr Trump had "got the message" that he was "not welcome" in the capital after the President cancelled a planned visit to open the new US embassy.
News of the protest came as former UKIP leader Nigel Farage raised the possibility of running against Mr Khan in 2020.
Despite having failed to win a parliamentary seat in each of his seven attempts, the Financial Times reports that he has been "encouraged to stand by a group of people" and that he is "thinking about it".
[ad_2]