[ad_1]

Labour's shadow Brexit secretary Sir Keir Starmer has insisted "nobody is ruling out Remain as an option" in a fresh referendum on the UK's relationship with the EU.
In a bid to push past confusion on Labour's position should there be a second public vote, Sir Keir declared the party could still back voters having the choice of staying in the EU.
In his speech to Labour's conference in Liverpool, Sir Keir told delegates that if Theresa May could not reach a Brexit deal with the EU, or parliament votes against an agreement, then Labour "must step up again and shape the debate".
He said: "Our preference is clear, we want a general election to sweep away this failed government."
And, deviating from a draft version of his speech, Sir Keir added: "But, if that's not possible, we must have other options. That must include campaigning for a public vote.
"It's right that parliament has the first say, but if we need to break the impasse our options must include campaigning for a public vote and nobody is ruling out Remain as an option."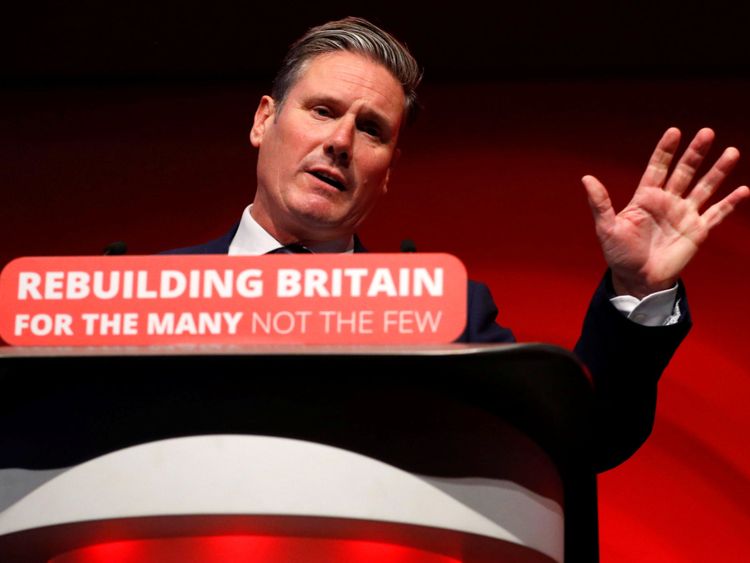 Sir Keir's declaration brought a standing ovation from many delegates in the conference hall and the biggest cheer of his entire speech.
However, veteran Labour MP Dennis Skinner, who backed Leave, notably did not applaud.
Sir Keir's words will be viewed as a rebuke to shadow chancellor John McDonnell, who told Sky News on Monday a fresh referendum should be "on the deal itself" and not another choice between Leave or Remain.
Sparking claims of a split at the top of the party, Sir Keir later contradicted Mr McDonnell's stance, prompting him to row back and admit Sir Keir was correct to say Labour was "keeping all the options on the table".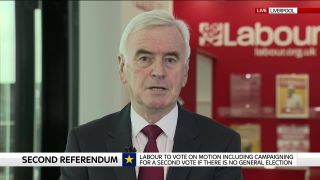 The Conservatives seized on Sir Keir's conference address, with Tory party chairman Brandon Lewis accusing Labour of wanting to "take us back to square one on Brexit".
Sir Keir also faced accusations of a "betrayal" of Labour voters by the party's Brexiteers, as well as claims he used his conference speech as a bid to position himself as a potential leadership replacement for Jeremy Corbyn.
Brendan Chilton, the general secretary of Labour Leave, said: "Keir's speech today was a challenge to Jeremy's leadership.
"It was a carefully calculated pitch, no doubt written with a team of advisers. He is undermining Jeremy, John McDonnell and millions of Labour voters – and he knows it.
"At times the speech had more in common with a leadership stump speech than a policy announcement.
"Many people will wonder whether Sir Keir is trying to line himself up as the Remain replacement for Jeremy."
Later on Tuesday, Labour members will vote on whether to back a motion committing the party to keeping "all options remaining on the table" – including a second referendum – should parliament vote against the prime minister's Brexit deal and a general election not follow.
Labour sources sought to downplay the significance of Sir Keir's conference address, suggesting it merely met the terms of the motion party members are due to vote on.
Sir Keir told the conference Labour MPs will vote against a Brexit deal if the government's agreement with the EU fails to meet his party's six tests.
[ad_2]