[ad_1]

Sir Vince Cable has called for Jeremy Corbyn's removal as Labour leader if he fails to back a fresh Brexit referendum.
The Liberal Democrat leader used his speech to the party's conference to accuse Mr Corbyn of dodging the "biggest issue of the day" over Britain's impending departure from the EU.
He attacked Mr Corbyn for "letting down the many people in Labour's heartland who now see Brexit for what it is", while he also attacked the Labour leader for indulging "antisemitic bigots".
Sir Vince also made a direct appeal to Prime Minister Theresa May over a referendum on the final Brexit deal, urging her to "shock us all by displaying true leadership" to offer what he terms a "people's vote".
In what is likely to have been his last conference speech as party leader, Sir Vince also set out how pro-EU campaigners could win a fresh EU referendum.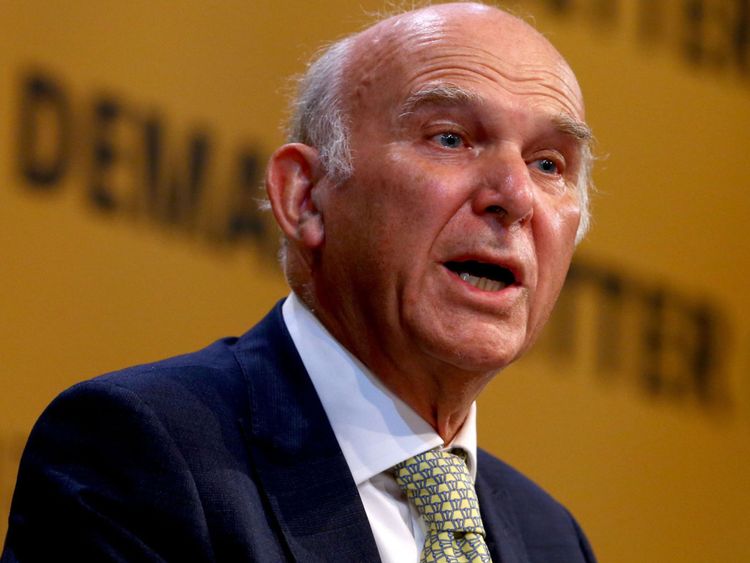 And he built on his call for the Lib Dems to mould themselves into a "movement" under his planned reforms.
The 75-year-old has vowed to stand down as Lib Dem leader once Brexit is "resolved or stopped" and once he has pushed through his proposed shake-up of party rules.
He has admitted it is "uncertain" whether he'll still be in charge by the end of next year.
If Tuesday's address to party members in Brighton was his last, one of the biggest cheers from delegates was reserved for Sir Vince's attack on Mr Corbyn, which came after he declared: "Brexit is not inevitable. It can and must be stopped."
Accusing the Labour leader of employing "hard left bootboys and girls to do his dirty work", Sir Vince said: "He indulges antisemitic bigots and pleads ignorance.
"But the nastiness shouldn't be allowed to obscure his abstention from the biggest issue of the day."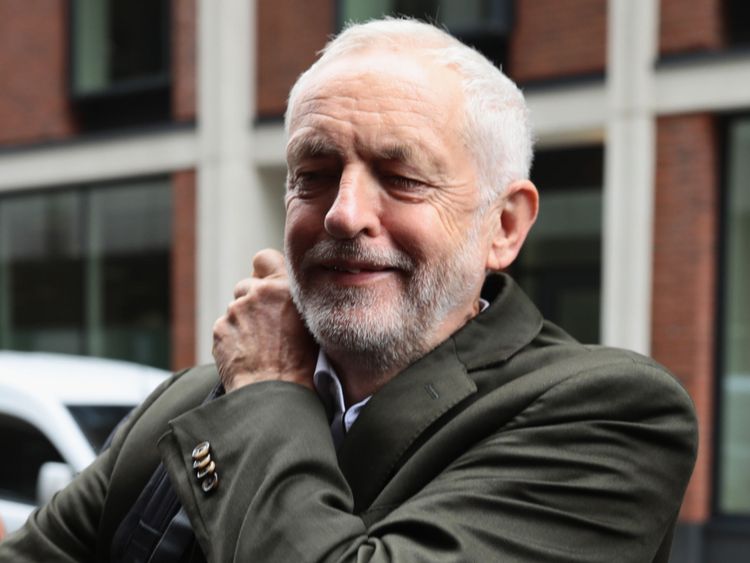 Ahead of Labour's own conference in Liverpool, beginning on Sunday, Sir Vince highlighted reports local constituency parties will use the gathering to demand Mr Corbyn throw his support behind a referendum on the final Brexit deal.
He said: "Next week hundreds, thousands, of Labour members and MPs will demand he changes course and backs a public vote on the final deal.
"If Jeremy Corbyn will not say 'I will support a people's vote and I will fight Brexit", Labour members should wave him goodbye."
Sir Vince also reserved harsh words for Tory Brexiteers, including a dig at Boris Johnson's private life as he outlined how Leave campaigners had promised departing the EU would be "a painless, quickie, Las Vegas-style divorce".
However, Sir Vince fluffed a pre-briefed line about how hardline Tory Brexiteers will disregard "economic pain" in their wish for the "erotic spasm" of leaving the EU.
Instead, the Lib Dem leader appeared to charge Conservative Leavers with wanting an "exotic spresm", with Sir Vince's predecessor Tim Farron noting how the delivery of the line had been an "anti-climax" and ex-England footballer Gary Lineker also picking up on the error on Twitter.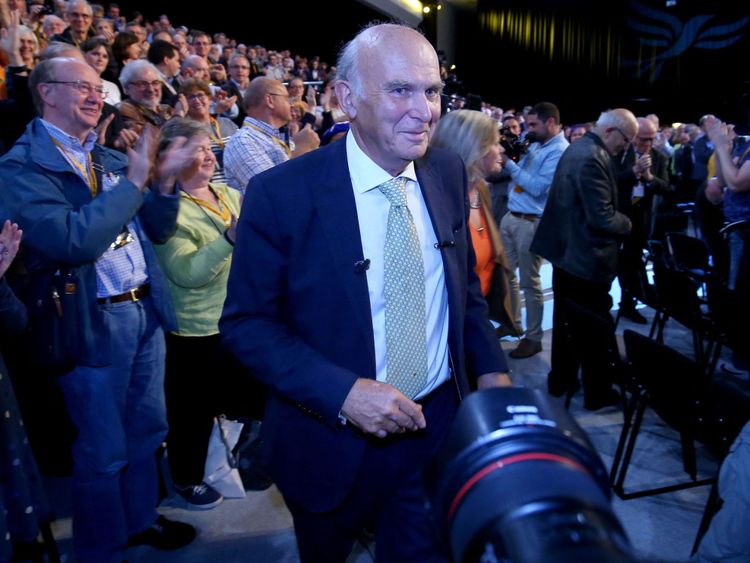 In a personal appeal to Mrs May to ignore the pressure put on her by the Brexiteer wing of her party, Sir Vince said: "Deep down, the prime minister knows Brexit is a bad idea. A bad idea whose time has gone.
"Even now, Theresa May could shock us all, by displaying true leadership. She could admit that the Brexit project has gone badly wrong."
He added: "Instead of kowtowing to her enemies in the Conservative Party, she could lead her party and the country by opening her mind to a 'people's vote' on the final deal."
So excited for tonight's game between Liverpool & PSG, I might be in danger of having an exotic spresm.

— Gary Lineker (@GaryLineker) September 18, 2018
But Sir Vince admitted, if the Lib Dems did get their wish for a fresh referendum, they would still face a "huge task" in winning the argument for Britain to remain in the EU.
He told his party they must "sell better the benefits immigration has brought to this country", but to not "dismiss all Brexit voters as racists".
Sir Vince suggested EU reforms – brought through eurosceptic feeling across Europe – could include a change to the bloc's freedom of movement rules for migration.
Beyond Brexit, Sir Vince highlighted how the Lib Dem conference had seen the party debate their plans for a sovereign wealth fund, a tax specifically to fund the NHS, the scrapping of inheritance tax in favour of a levy on gifts received over a lifetime, and the abolishment of business rates.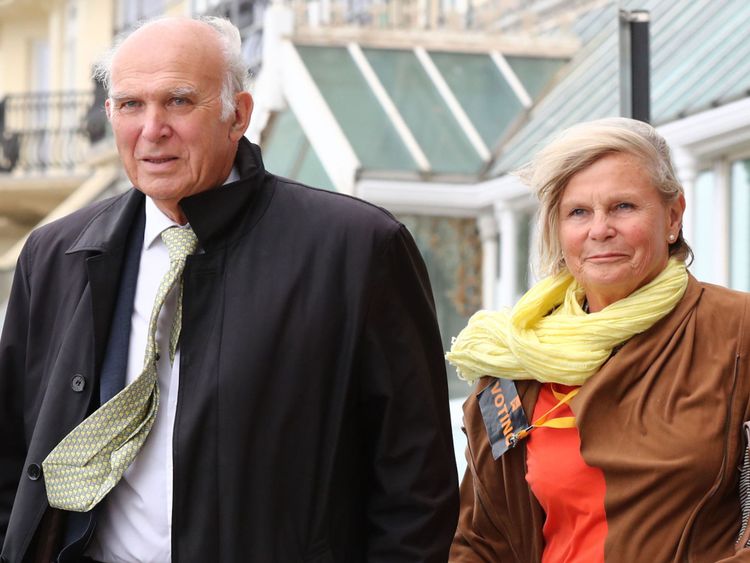 He also defended his plans to widen the Lib Dem membership with a new class of supporters who can join the party for free, as well as allow non-MPs to stand for the leadership.
The proposals were met with a mixed reception from existing party members, while Sir Vince's call for the party to become a "movement for moderates" has also been criticised from within Lib Dem ranks.
But, the party leader told the conference: "If you don't call yourself a 'moderate', fine.
"I am a liberal and a social democrat and far from moderate in my detestation of what is happening at the extremes of British politics.
"But if others choose to identify themselves as moderates who hate extremism in their own parties, we shouldn't be quibbling about labels. Let them in."


[ad_2]