[ad_1]

Theresa May has refused to say whether she backs a Sky News campaign for an independent commission to oversee leaders' election debates.
Sky News is calling for the creation of an Independent Debates Commission (LDC) to oversee and organise television debates between party leaders at general election time.
It is a move backed by Tories, Labour and the Liberal Democrats, including Vince Cable and Jeremy Corbyn.
But when asked if she would join them in supporting the Make Debates Happen campaign, Theresa May skirted the issue.
She told Sky's political correspondent Tom Rayner: "The next general election isn't until 2022.
"There's plenty of time to think about those issues at that time.
"What we're focused on now is actually ensuring that we're working to get that good deal from the European Union, one that's in the interests of people across the whole of the United Kingdom."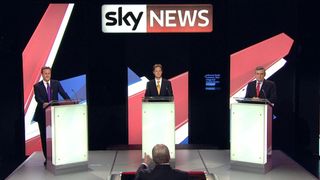 Mrs May has not taken part in an election debate between party leaders on TV, as the last one was in 2010.
They have not happened since, despite two more general elections taking place.
A seven-way debate in June 2017 saw the Conservatives represented by then home secretary Amber Rudd.
Mrs May was accused of lacking "guts" and of "running away from the debate" during the event.
She was also absent from a similar debate the month before.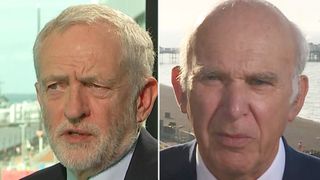 Under the Sky News proposal, election law would be changed to make party leaders take part in a televised debate.
The LDC would set the format and the rules, as well as outline the criteria for political party participation.
It would also steer negotiations between broadcasters and parties and ensure the audiences are objective.
An online petition has been set up by Sky News so voters can support the campaign.
The petition will be considered for debate in parliament when it gets enough signatures.
Shadow chancellor John McDonnell and shadow business secretary Rebecca Long-Bailey are among the latest to support the campaign.
Conservative politicians, including Amber Rudd and former equalities minister Nicky Morgan, have also given their backing.
Editor-at-large Adam Boulton said: "I think there is real enthusiasm behind the debate. I think the danger is complacency, yes of course they should happen, people think why wouldn't they happen.
"There's no doubt the Labour Party would love to see Jeremy Corbyn up against the leader of the Conservative Party. With newspaper headlines saying we could have a general election this autumn, there really is no time to lose."
[ad_2]