[ad_1]

Theresa May has told cabinet ministers to hold their nerve after her Chequers plan was rejected by EU leaders – as top Brexiteers backed an alternative to the proposal.
Senior Conservative Leave supporters have continued to pile pressure on her to ditch the plan in favour of a recommendation from the Institute of Economic Affairs (IEA).
David Davis and Jacob Rees-Mogg attended the launch of the IEA's report, which calls on the government to seek a "basic" free trade agreement for goods of the kind struck between the EU and Canada.
This would be while pursuing "regulatory freedom and trade independence".
It came as a list of 24 technical notices published by the government on Monday showed how everyday life could be disrupted in the event of a "no deal" Brexit.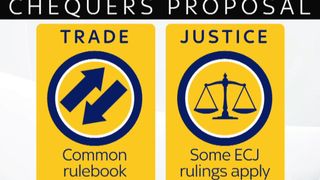 As ministers gathered at 10 Downing Street the prime minister said she remained confident of securing a withdrawal agreement with the EU.
She added that the government would still continue to prepare for the possibility of "no-deal" Brexit.
The Department for Exiting the EU's technical notes warned of a disruption to food supplies and coach firms being unable to operate in the bloc if a deal is not reached.
They also provided guidance on areas such as taking pets abroad, veterinary medicines, regulating energy and labelling products.
Vehicle insurance, EU-funded programmes, business regulations and importing and exporting also featured in the papers.
When asked if the prime minister's Chequers plan was still alive on his way into 10 Downing Street today, the Chancellor Philip Hammond replied: "Very much so."
[ad_2]