[ad_1]

Former English Defence League leader Tommy Robinson has claimed there was an attempt to "mentally destroy" him during his jail sentence.
The far-right activist was released from prison on Wednesday after winning an appeal against a contempt of court finding.
Anti-Islam figures around the world, who rallied behind Robinson as a supposed freedom of speech "martyr", have celebrated the overturning of his sentence.
Robinson, real name Stephen Yaxley-Lennon, refused to comment on his immediate release, telling a Sky News reporter: "All the mainstream media do is lie.
"The British public no longer believe… I've got a lot to say, but nothing to you."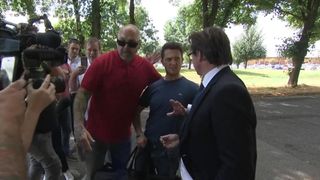 But, in a video posted to his Facebook page, Robinson has since thanked those who campaigned for his release.
Commenting on his time in Onley Prison, near Rugby, he said: "What they've attempted to do is mentally destroy me.
"That was not a prison sentence, that was mental torture.
"Solitary confinement, all of it, everything was orchestrated and organised to cause me maximum disruptance [sic]."
Robinson thanked "person after person after person, who come [sic] out and put their neck and their reputation on the line" to support him.
He expressed gratitude to UKIP leader Gerard Batten, UKIP peer Lord Pearson, Dutch politician Geert Wilders and former Nigel Farage adviser Raheem Kassam.
And, commenting on how his case was followed by supporters around the world, Robinson described how he had been "sitting reading emails in my cell, reading emails from people who I've not met, many of them, who are saying 'we're not going to rest until he's freed'."
He added: "It was such a feeling to know the support."
Robinson revealed he will go on holiday to "take two weeks now to just chill with my family".
Responding to Robinson's release from jail on Wednesday, Mr Batten – who has described Islam as a "death cult" – said: "A word of appreciation for the Appeal Court today. They held up the best traditions of English law. Fair and impartial."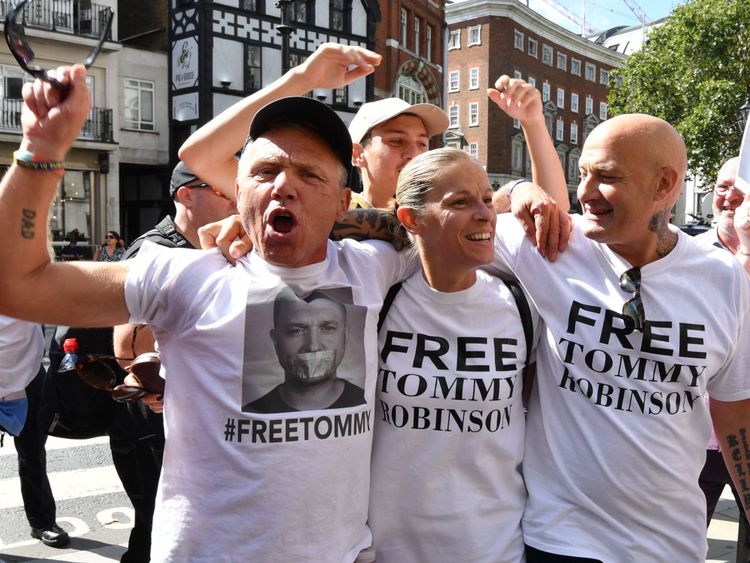 Mr Wilders, who campaigns against Islam in the Netherlands, hailed Robinson's release as "fantastic news".
Robinson could still face jail, with judges saying a fresh hearing should take place "as soon as reasonably possible".
He was detained in May for allegedly broadcasting on Facebook details of an ongoing trial subject to blanket reporting restrictions.
Subsequently, Robinson was sentenced to 10 months for contempt of court and given a further three months for breaching the terms of a previous suspended sentence.
Three leading judges in London quashed the contempt of court finding on Wednesday, granting conditional bail from a 13-month sentence pending new proceedings.
[ad_2]