[ad_1]

Former prime minister Tony Blair and his political ally Lord Mandelson have joined Tory Brexiteers in trashing Theresa May's strategy for leaving the EU.
The New Labour duo, who were prominent members of the Remain campaign during the EU referendum, have both branded the prime minister's plan "the worst of both worlds".
In an article published via his institute, Mr Blair described Mrs May's proposals as "just mush" and "an 'Inbetweener' half in/half out mess", as he called on parliament to "reject this solution decisively".
"This solution – half in/half out – won't work, won't end the argument and will simply mean a confused outcome in which we continue to abide by Europe's rules whilst losing our say over them," he wrote.
The former leader of the UK accused Mrs May of drafting her plan – as agreed by ministers at a Chequers away day earlier this month and subsequently set out in a white paper to parliament – with "exquisite disingenuousness".
Mr Blair described the scheme as "staying close to Europe whilst trying to pretend the opposite", while he dismissed the prime minister's plan for post-Brexit customs arrangements as "pie in the sky".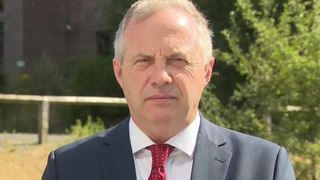 Calling on MPs from both sides of the Brexit debate to vote against the plan, the former Labour leader said: "It is not making the best of a bad job. It is the worst of both worlds.
"This is where true Remainers and true Leavers make common cause."
Repeating his call for a second EU referendum, Mr Blair suggested there will be no majority in parliament for Mrs May's plan, "or possibly for any version of Brexit or indeed for staying", as he suggested the country was "stuck".
He added: "In any rational world, and I understand that is a big caveat in today's politics, this would go back to the people for resolution."
But, denying a second EU referendum would be "a re-run" of the 2016 vote, Mr Blair said: "The question may be complicated because it really involves three choices: clean break, 'soft' [Brexit] or stay. But the complexity is not insuperable."
Lord Mandelson, a former EU commissioner, joined the attack on Mrs May's plan and branded the proposals as "less like a soft Brexit than a national humiliation", adding: "It is the polar opposite of taking back control."
In an article for The Observer newspaper, in which he also voiced his support for a second EU referendum, the Labour peer said: "You are drawn to the conclusion that it would be better to be fully in the economic structures of the EU or out of them altogether, and if you are them, better to stay in the EU itself as this provides a seat at the table where the rules are made."
By rejecting the prime minister's plan, Mr Blair and Lord Mandelson have formed an unlikely alliance with Tory Brexiteers, who are also calling on Mrs May to change course.
Despite the prime minister using a TV interview on Sunday to defend her proposals, she came under further pressure from her backbench MPs.
Wellingborough MP Peter Bone told Sky News that Mrs May's plan "breaks all the previous red lines she had before Chequers" and had "split the party".
He said: "I cannot find someone who supported Leave within the Conservative MPs who's happy with the proposals if you talk to them in private.
"The associations, the members, the voters who support the Conservative Party are up in arms about what's happened and they just want to see the policy reversed to what it was before.
"I really do think the prime minister has to act very quickly on this."
Meanwhile, the ConservativeHome website reported Mrs May's chief of staff, Gavin Barwell, and Conservative Party chairman, Brandon Lewis, were holding a conference call on Sunday with regional Tory officials to "gauge the mood" of the Conservative grassroots.
However, Mrs May did receive assurances that some Labour MPs could support her deal.
Labour's Brexit-supporting MP John Mann told Sky News' Sophy Ridge on Sunday: "If there is the choice, including something rational on immigration where we have control over our borders, if that's what's on offer, then I could see quite a lot of Labour MPs will – when it comes to it in that final vote – vote for it rather than try and scupper Brexit."
He added: "I won't be going in some voting lobby with [Tory Brexiteer] Jacob Rees-Mogg and those who want a second referendum in some unholy alliance."
[ad_2]