[ad_1]

Tory eurosceptics have fired their opening salvo in a bid to kill off the prime minister's Chequers plan for Britain's post-Brexit relationship with the European Union.
They have tabled for amendments to the Customs Bill on the eve of the government publishing a white paper setting out Theresa May's blueprint in full.
What has been outlined so far has sparked a backlash from Brexiteers and prompted the resignations of David Davis and Boris Johnson.
Given the perilous parliamentary arithmetic, a rebellion by eurosceptic backbenchers could wipe out Mrs May's majority when the bill comes back to the Commons on Monday.
Amid warnings the PM will face "guerrilla warfare" in parliament, Mrs May remains insistent the deal agreed with her cabinet following a marathon day of talks on Friday "delivers on the vote that people gave on Brexit".
But top Brexiteer Jacob Rees-Mogg described the agreement as a "breakdown in trust" and said Mrs May needed to alter her course or face having to rely on Labour votes to get it through parliament.
Jacob Rees-Mogg and fellow Tory backbenchers have tabled four amendments to the government's Trade Bill in an attempt to block Theresa May's Chequers plan. Zach has the details👇 https://t.co/RWIAL0Qhfg

— Sky News Politics (@SkyNewsPolitics) July 11, 2018
One of the rebel amendments – signed by Mr Rees-Mogg, former Conservative leader Iain Duncan Smith and former minister Priti Patel – calls on the UK to scrap an offer to collect taxes and duties on behalf of the EU, unless EU states reciprocate.
A second – supported by the Democratic Unionist Party, former minister Owen Paterson and Labour MP Kate Hoey – would force the government to commit itself in law to avoid a customs border down the Irish Sea.
The other two call on Britain to maintain a separate VAT regime from the EU and force the PM to table primary legislation if she opts to keep the UK in the customs union.
Mr Rees-Mogg, chair of the European Research Group of Eurosceptic Conservative MPs, told The Sun: "Unfortunately Chequers was a breakdown in trust.
"Brexit meant Brexit, but now it appears Brexit means remaining subject to European laws.
"I believe this will help the Government stick to the promises it made.
"It may resolve the dilemma the Prime Minister faces. Does she rely on Labour votes to achieve Brexit or does she change her mind and go back to Lancaster House? Will she stick to her earlier words?"
Mr Rees-Mogg has previously hit out at peers in the Lords for tabling amendments to Brexit legislation, accusing them of "playing with fire".
He has also criticised Downing Street for briefing Labour MPs about its Brexit plans, describing such a development as "a matter of grave concern".
Senior Tory backbencher Sir Bernard Jenkin said: "These four amendments reflect existing Government policy, and we hope they will be welcomed by the Government."
Virendra Sharma, a supporter of the Best for Britain campaign for another referendum, said that a "gang of Brexit bullies are threatening to pull the plug on the Prime Minister".
"We're two years on from the referendum and the party of government seems more divided than ever," the Labour MP said.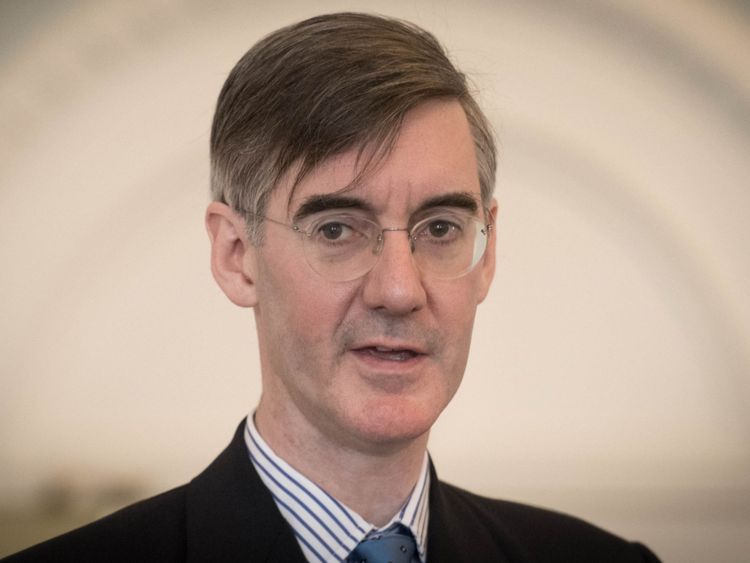 "The Tories can't decide whether to calm business fears or tell firms to get lost, they've lost it at this crucial juncture. Talk about 'saboteurs'."
Speaking at a NATO summit in Brussels, Mrs May repeated her assertion that the Chequers agreement delivered on her Brexit red lines – leaving the EU's single market and customs union.
"It delivers on the vote that people gave on Brexit, it delivers the fact that we will have an end to free movement, we will have an end to the jurisdiction of the European Court of Justice in the UK, we won't be sending vast contributions to the EU every year, we'll be out of the Common Agricultural Policy, out of the Common Fisheries Policy," she said.
"We deliver that Brexit and we do it in a way that protects jobs and livelihoods and meets our commitment to Northern Ireland."
Sky News has been told that Brexiteers have "plenty more in the locker" as they seek to "inflict as much damage as possible" on Mrs May and try to force her to change course.
But Sir Bernard earlier played down such talk, writing on Twitter: "For the record … ERG is not expecting any further resignations, nor were we expecting any in the first place.
"Nor do we expect a leadership challenge. We are supporting Theresa for PM."


[ad_2]